Morehead City Self Storage - Coastal Mini Storage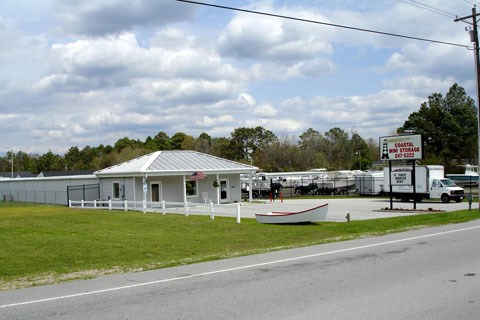 Coastal Mini Storage of Morehead City , NCis located just west of Brandywine Bay. Our full service storage facility offers safe, secure storage for all your needs. At Coastal Mini Storage, we offer climate controlled storage units to protect your belongings from extreme temperatures. Fenced and lighted grounds, keypad entry, and surveillance cameras keep your storage unit secure 24 hours a day. We offer our customers moving supplies and a One-Time storage credit, up to $35, if customer rents one our available moving trucks to Move-In. You just pay for gas and mileage! Our on-site storage specialists are available 7 days a week or by appointment to help you choose from our many storage unit sizes. Contact our Morehead City, NC storage facility today for more information.
Click here to pay or reserve today!

						Personal[4' X 5' w/ Roll-Up Door:30.00,4' X 11' w/ Roll-Up Door:45.00];Small[5' X 6' w/ Roll-Up Door:40.00,5' X 8' w/ Roll-Up Door:50.00,5' X 10' w/ Climate Control & w/ Roll-Up Door:75.00,5' X 11' w/ Roll-Up Door:55.00,5' X 12' w/ Roll-Up Door:57.00,6' X 11' w/ Roll-Up Door:60.00];Medium[7' X 11' w/ Roll-Up Door:65.00,11' X 12' w/ Roll-Up Door:85.00];Large[10' X 10' w/ Roll-Up Door:85.00, 10' X 10' w/ Climate Control & Roll-Up Door:125.00,10' X 11' w/ Roll-Up Door:85.00,10' X 15' w/ Roll-Up Door:100.00, 10' X 15' w/ Climate Control & w/ Roll-Up Door:140.00];Extra-Large[9' X 22' w/ Roll-Up Door:100.00,10' X 20' w/ Roll-Up Door:110.00, 10' X 20' w/ Climate Control & w/ Roll-Up Door:175.00,10' X 25' w/ Roll-Up Door:135.00, 10' X 30' w/ Roll-Up Door & Parking:140.00,11' X 22' w/ Roll-Up Door:115.00];